Ripple News
XRP continues to be trapped between 100 and 200 EMA!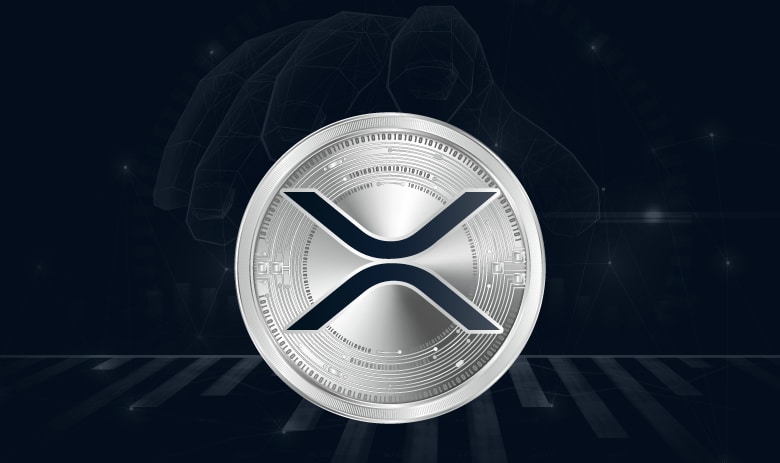 XRP is a prominent digital token that is not yet completely decentralized since there is no blockchain to monitor the creation or burning of XRP tokens. On the contrary, XRP is used as a payment currency for completing transactions using the XRPL ledger system. The market capitalization of XRP lies in the vicinity of $23 billion and trades with a 45% decline on a year-to-year basis. With such a value, XRP ranks at the 6th spot amongst other leading digital cryptocurrencies.
XRP faces yet another backlash in the form of profit booking from 200 EMA; the level has emerged as a strong resistance since the breakdown of May 2022. The huge jump in XRP in September has created the foundations for a further uptrend.
XRP's weekly price action candles showcased longer wicks at the bottom, indicating a bottom buying approach taken by buyers. The outlook for XRP has emerged positive recently, but the resistance of $0.5376 would be significant in holding its gains.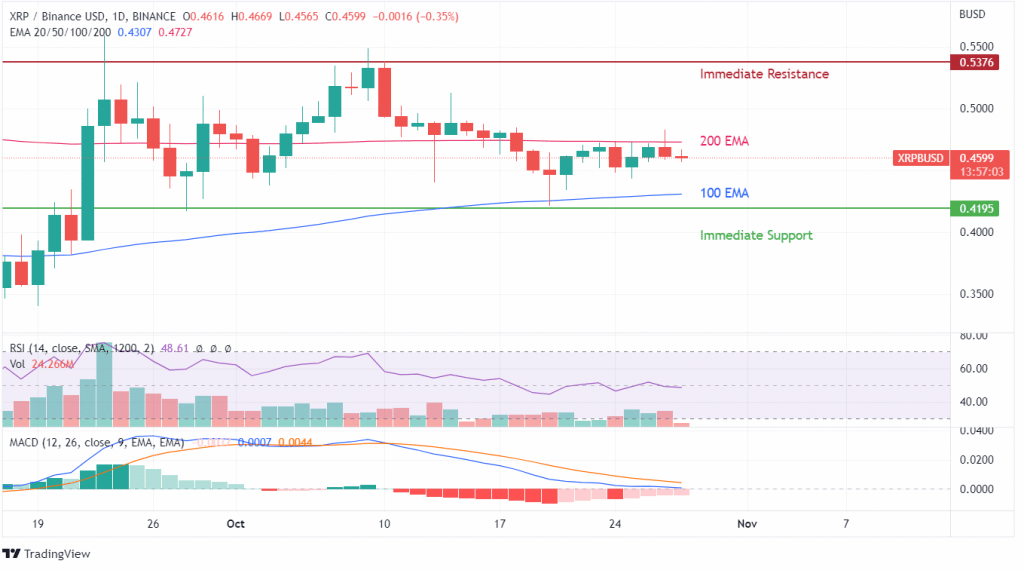 XRP has made a strong comeback in the last month and faces the last resistance of 200 EMA before a strong uptrending breakout. The resistance of $0.53 is one thing, but the resistance developed by 200 EMA at $0.47 is the main bottleneck.
Price action shows strength but lacks conviction which can further be confirmed by the dropping RSI levels and down-trending MACD indicator. Trading between 100 EMA and 200 EMA puts XRP carries a strong uptrend possibility.
The current consolidation phase can prolong the uptrend sentiment, but considering the outlook of its SEC lawsuit and fundamental demand for faster transaction modules by international organizations, XRP is on a growth path. The sheer momentum of trading above 100 EMA and not having to test the level even once speaks about the potential and capability of XRP in the coming days.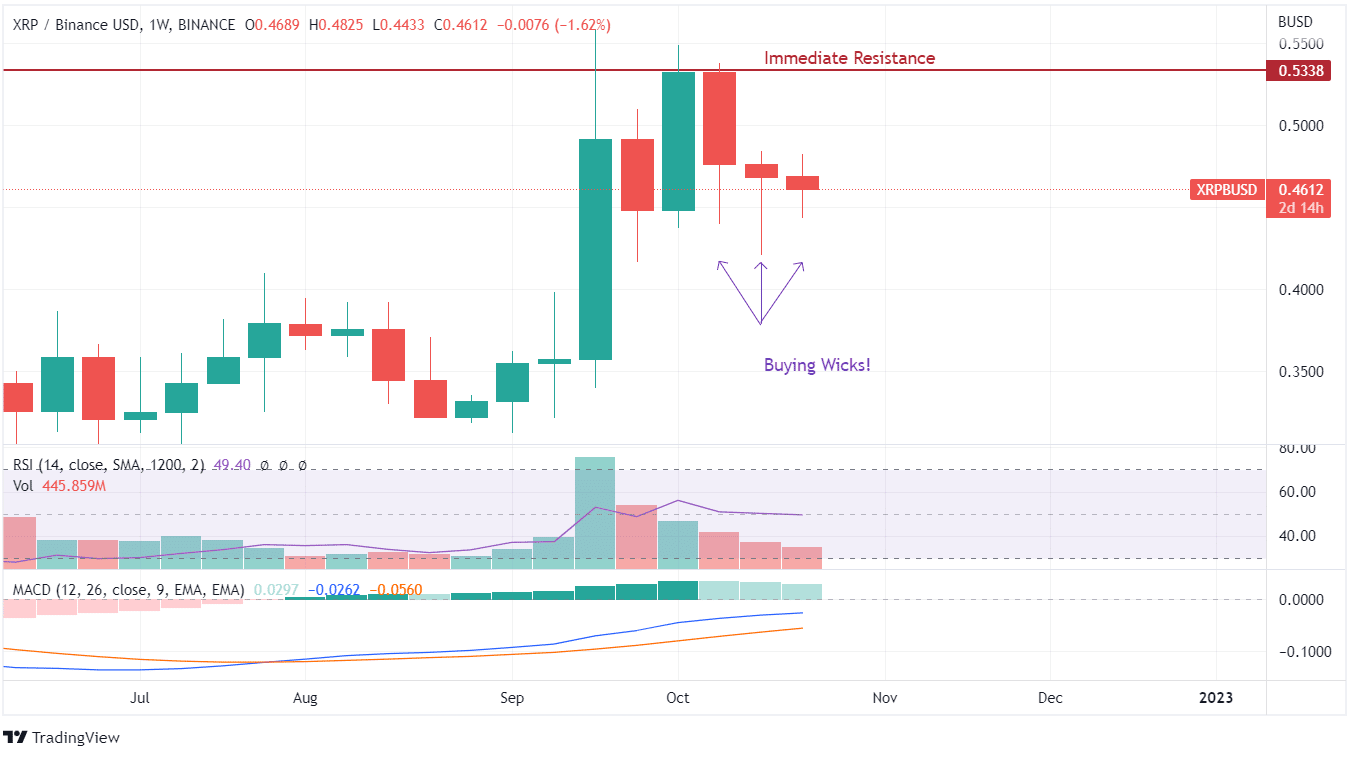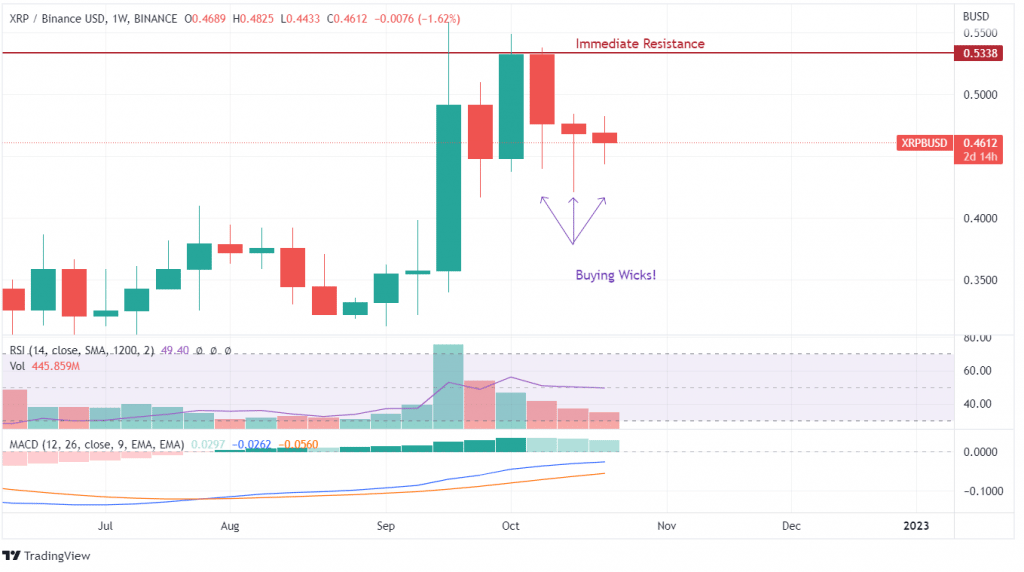 XRP's weekly price action movement adds more strength to the uptrend possibility, which could surpass the immediate resistance of $0.53. The buying wicks seen on weekly candles confirm a buying stance where enthusiasts are expecting some more profit booking.
In case of further decline below $0.42, some retracement and heightened buying sprees could be visible. On the contrary, breaching $0.53 would add a barrage of uptrend attempts.
Here the RSI indicator has been trailing in a neutral zone, expecting to be woken, while the MACD indicator is gradually moving upwards. The resultant movement of XRP could be in either direction since the SEC lawsuit hasn't yet been resolved, and things can take a complete rotation in a very short time frame.